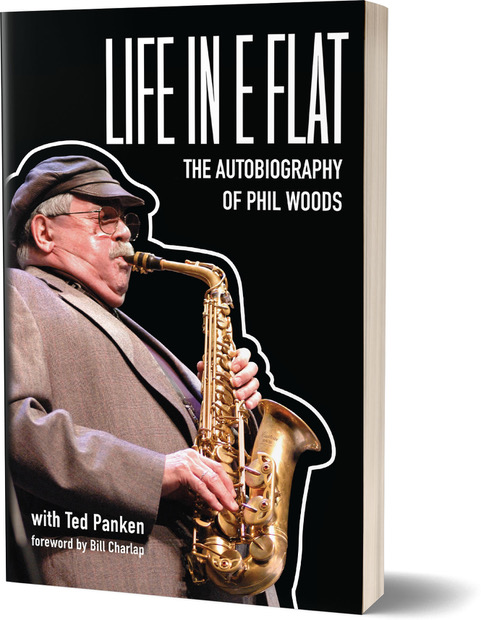 "Life in E Flat is a gift, a compelling and entertaining memoir by one of the leading alto saxophonists in jazz for 60 years. Woods is a charismatic storyteller--literate, funny, insightful, self-aware, with a keen eye and ear for details that reveal character and wise observations about the music business and the jazz life laced with sardonic wit."
- Mark Stryker, author of Jazz From Detroit
""Someone spotted me fondling the saxophone and misinterpreted my avaricious intent as musical interest..." So Phil Wood's lifelong journey began--a saga he relates with an irreverent, self-deprecating wit, from his earliest days in Western Massachusetts to recording timeless music and traveling the world with jazz legends. Time and again, he sets up a story like a punchline's coming, and often they do. What you always get is history rich in detail and long in feeling and self-honesty - the personal stumbles and the musical triumphs. Phil left us in 2015; this book he left us is a gift that shows how so much of him is still here."
- Ashley Kahn, music historian and author of A Love Supreme: The Story of John Coltrane's Signature Album & Kind of Blue: The Making of the Miles Davis Masterpiece
"Growing up a New York jazz fan, Phil Woods was always a favorite. He was straight ahead, personal but in control, brimming with ideas: solid in every way. This account of the late jazz man's American journey, assembled with a loving, light touch by the always discerning critic Ted Panken, is like a Woods' gig. Full of the right information, things you thought you knew but didn't (the stories of often being the only white man in the room especially after marrying Charlie Parker's widow are instructive), heartbreaking and triumphant, Life in E Flat is 100% solid."
- Mark Jacobson, author of The Lampshade and Pale Horse Rider, former staff writer of the Village Voice and New York Magazine, and contributing editor for Rolling Stone and Esquire
"Phil Woods's voice on the page is as raw and lyrical and unmistakable as the sound of his alto. If you want to really know about The Life -- the true day-to-day of a working jazz musician, with all its agonies and ecstasies and tedium and the ever-exciting challenge of getting paid something like what you're worth for playing your heart out -- look no further. Life in E-Flat pulls no punches and tells no lies."
- James Kaplan, author of Sinatra: The Chairman, Frank: The Voice, and Irving Berlin: New York Genius